Which are the best Emirates Skywards Credit Cards to earn Skywards miles?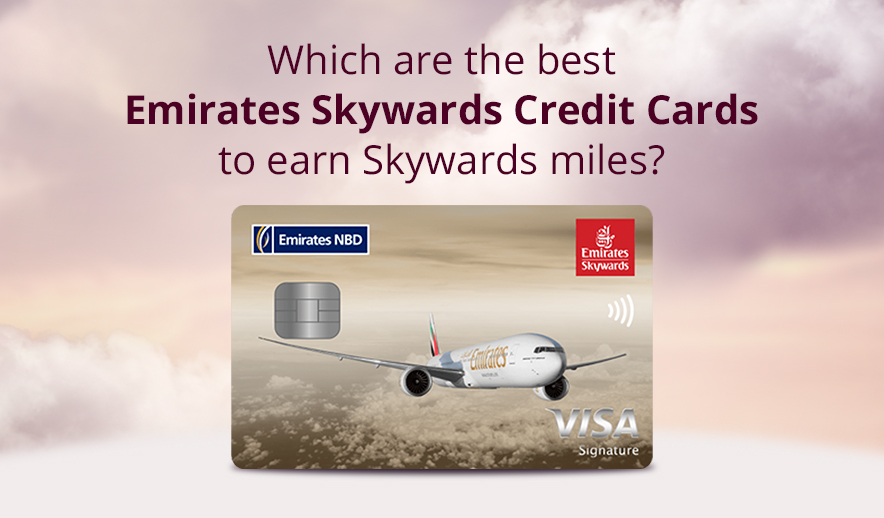 List of best Emirates Skywards Credit Cards to earn Skywards miles.
Emirates Airlines is one of the most popular airlines in the world and THE most popular airline in the UAE.
As residents we are very lucky to travel with Emirates Airlines and enjoy all the great benefits including the latest aircrafts, extensive travel routes, the best airport lounges, amazing on demand entertainment options, an entire terminal dedicated to just one airline and so on. In addition to these benefits Emirates airlines also offers one of the best airlines miles reward programs offered anywhere in the world – the Emirates Skywards miles program. As with most airline miles programs Emirates Skywards miles can be used to purchase tickets, to upgrade tickets already purchased as well as to make other retail purchases.
While one can earn miles by simply buying tickets for Emirates airlines flights another very popular way to earn Skywards miles is by using specific credit cards which offer Emirates Skywards miles as rewards against purchases made on the credit card. This is a very popular way to earn additional Skywards miles and almost all leading banks in the UAE offer Skywards credit cards which can be used for this purpose. But now comes the question – how do you decide which of these credit cards is the best option for you? This is an important consideration as a credit card is not something you keep applying for and change very often, so it's important you try and get it right the first time. Don't worry, we're here to help you make that choice and this particular article is focused on which Emirates Skywards credit cards offer the maximum Skywards miles for purchases made on the card.
All these Emirates Skywards credit cards also offer other benefits in addition to earning Skywards miles and you can find all the details for each of these cards at www.soulwallet.com in addition to finding our take on the best Skywards credit cards for specific criterion including bonus miles, Skywards tier levels and so on which you can read here.
When  it  comes  to  figuring  out  which  Emirates  Skywards  credit  cards  are  the  best  for  earning  Skywards  Miles  it  is  important  to  keep  the  below  in  mind:
Which card is the "best for maximum Skywards miles" depends on what type of transactions the card is used for. This is because different credit cards offer different amounts of Skywards miles for different type of purchases. And this can vary not just from bank to bank but within the different Emirates Skywards cards offered by the same bank as well. Hence, while one credit card may earn 1 Skyward mile for every AED spent at supermarkets another may only earn 0.25 Skyward miles for every AED spent at supermarkets. This is why identifying the best credit card to maximise Skywards miles depends on how much YOU as an individual spend on different types of purchases.
Some Emirates Skywards credit cards do not offer ANY rewards for certain types of spends made on the credit card. This could be relevant depending on the typical spends made in that specific category.
Almost all Skywards credit cards offered by banks in the UAE offer more Skywards Miles for spends made at Emirates Airlines (and Flydubai) and more for purchases made internationally (i.e. in a foreign currency). If you make significant purchases at these airlines each year this could have a considerable impact on the amount of Skywards miles earned.
Only some Emirates Skywards credit cards offer card holders the option to earn Skywards "Tier" miles on spends made on the credit card. Tier miles are different from regular Skywards miles and go towards earning the specific "tier" of membership within the Emirates Skywards program – Silver, Gold and Platinum. These tier miles are different from regular miles which can be used to make flight ticket or retail purchases and be used to upgrade flight tickets.
Many of the Emirates Skywards credit cards also offer some "welcome" or joining bonus Skywards miles which in some cases can be a very attractive offer to consider. Almost always these offers will be based on certain criterion being met including payment of the joining or annual membership fee and meeting certain spend levels on the card within specific time frames. For e.g. Dubai Islamic bank current has an offer on their Emirates Skywards Infinite credit card where 120,000 Skywards miless will be awarded to the card holder if an amount of AED 120,000 is spent on the card by April 30th
In some instances, certain categories of payments such as utilities (DEWA) or telecom (Du or Etisalat) which are made via the bank's online channels either do not earn or earn lower Skywards miles.
The final decision on Emirates Skywards miles awarded for each category of spends is always with the bank issuing the credit card and it is always advisable to clarify these before applying for the credit card.
The  below  tables  have  details  of  the  Emirates  Skywards  miles  one  can  earn  based  on  the  specific  transaction  types  for  every  Skywards  credit  card  offered  in  the  UAE.
* European Economic Area transactions will only earn 0.375 Skywards miles per USD of spend.
** these categories earn only 50% of the Skywards Miles If the total spend in these categories is LESS THAN 50% of the total spend on the card.