How Digital Banking Systems Enhance Customer Experience?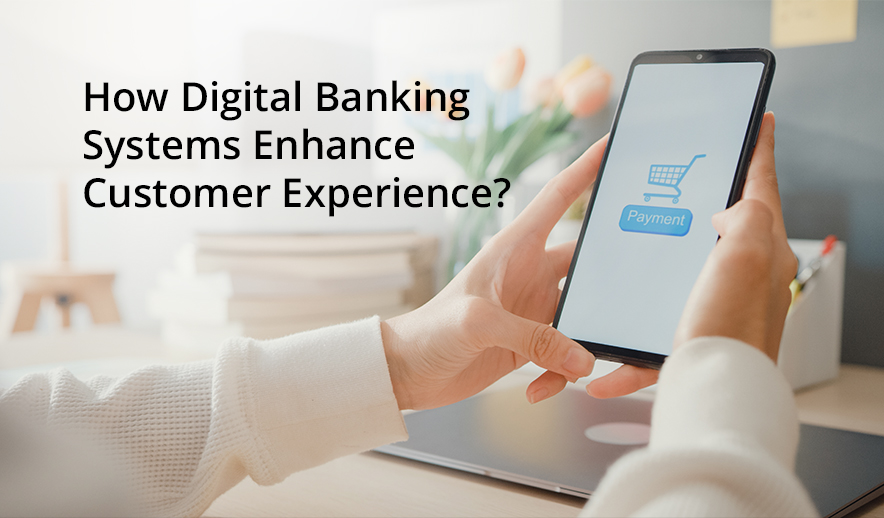 Technology is ever changing and continues to revolutionise the world in which we live. In less than a decade, the lives of every single person worldwide have changed from being digital second to digital first. As technology is developing towards providing a comfortable lifestyle, people's preferences are changing with respect to living in this easily accessible digital world. The world has seen significant improvements and advancements digitally in the last few years alone. These advancements would only continue to grow and inspire people to adapt to the changes in their lifestyles. Gadgets like laptops, smartphones, tablets, and computers have become an integral part of almost everyone's daily life. Internet and online preferences have seen a significant rise, adding to the comfortable lifestyle of an individual.
The Continuous evolving landscape, cutting-edge competition, along with rising customer expectations have become a general thumb rule to adapt to in almost every industry. The banking sector is no exception and is one of the first industries to adapt to digital advancements. The banking and financial sector being the backbone of any economy is understandably on the frontline for digitalisation and advancement. This is also why many insurances, banking services, and financial institutions and providers have to keep up with the new trends to tend to their customers promptly.
SoulWallet helps you compare and find the best credit card across various banks, that are suited for your needs for you to have an easy and hassle-free experience. The well-researched, solidly structured, unbiased content along with unique tools at SoulWallet help you make well informed financial decisions for your personal and business transactions. In the process, SoulWallet helps you identify the options that will let you save money and enjoy the best perks.
Digitalisation in Banking
With the digitalisation of the banking sector, more and more people prefer to manage their financial activities from making payments, transactions like transferring of funds, checking their bank account statements to applying for loans and credit cards by simply logging into their digital banking portals and conducting these activities from the comfort of their homes or from on the move without having to visit the bank. Digital banking is a system that helps banks and financial institutions to digitalise their banking services and make them convenient to use for the customers as per their convenience. Digital banking services can include activities like money deposits, withdrawals, management of the customer's bank account, application for financial products, like credit or debit cards, management of loans and other transactions.
Digitalising the banking sector has also helped grow their customer base and transactions can be carried out easily from any area of the world. In order to incorporate this, various digital platforms have established easier links between people from different remote corners, connecting them to the banking and financial institutions and providing them with the service they need. That is why the preference for digital banking for both customers and bankers is thriving.
In many cases, physical restrictions and complications lead to a sharp surge in a demand for an online platform for financial activities and digital banking services. A study by Mastercard revealed that 62% of the respondents in Europe expressed a keen desire and interest in moving from the physical banking aspect to banking using digital platforms in the year 2020. With the complications arising due to the pandemic, over half of the world's population prefers using online facilities and banking apps more than ever and have expressed a more positive interest in digital banking overall. Customers have switched banks for banks that offer banking features that provide safe, quick, and convenient access to their finances online. Fast, simple, and effortless digital experiences have now become the default mode for consumers throughout their lives, and it's becoming increasingly important for banking too, particularly as all the big techs have upped their involvement in their respective sectors.
Digital banking authorizes its customer's personalization at the scale that drives between 5 and 15% revenue growth for the corporations in the financial service sectors. Banks functioning digitally have also witnessed a reduction in costs and streamlined processes. This end-to-end integration has also helped provide an engaging customer experience in financial services that allow business transformation with the help of Artificial Intelligence (AI).
Customer Experience in Banking
In the year 1999, when the world was steadily digitalising, Dell's then Chief Information Officer Jerry Gregoire proclaimed, "the customer experience is the next competitive battleground." The two decades since have shown this to be a very accurate prediction in all sectors of business.
All the efforts a bank puts in making each and every one of their individual clients feel important while interacting and transacting with the bank is referred to as the customer experience (CX). The cumulation of all the interactions that a customer perceives along the entire journey is also a part of the customer experience. Customer experience is the most important aspect in the banking and financial sector. Every strategic approach taken by the banks is to meet the demands of their customer and to satisfy their customer needs. In this day and age, it is crucial for banks and financial institutions to digitally transform themselves to deliver a consistent banking experience online for their customers.
A study by the digital banking report has concluded that improving the customer experience in banking should be the first goal for all banking institutions and financial service providers. The banks that invest in the customer experience trends have a higher rate of recommendation, greater wallet share and are more likely to up and sell or cross-sell products and services to existing customers.
In the financial service industry, customer experience carries equal weightage, if not more. Addressing customer suggestions and preferences is much more impactful in the long term and forms a loyal customer base. Banks and financial institutions that adopt new trends and strategies to revamp the banking and financial service experiences are steady in the market and have a loyal and expanding customer base. Banks and financial institutions that have used digitalisation and technology to create seamless, convenient, and intuitive customer experiences have dominated their markets.
What are the Customer Expectations from Digital Banking Experience?
Customers expect their banks should focus on creating an experience culture that would nurture all their needs, build trust, and offer personalised experience as per their convenience.
The key customer expectations when it comes to digitised banking experience are:
Easy accessibility – Banks and financial institutions need to provide quick and easy to use digital platforms that are accessible across multiple devices, mainly smartphones and computers. Various features and banking transactions should be carried out easily on these platforms without any wait time. The high quality banking experience along with easily connecting with the bank directly is a must.
Real time assistance – Often customers need real time assistance and prefer instant support. This not only builds confidence in the customers but also encourages loyalty and recurring customers. Using live assistance tools like co-browsing and video chats, banks can provide real time support and help to their customers. Chatbots also help scale their support and customer interactions.
Personalised services – Customers almost always prefer personalised services and relevance as per their needs. They would look for products and services that match their needs and provides subsidies that would be beneficial to their needs and usage. Banks can identify the key business drivers and deliver personalised support that would help shape the customer experience in banking.
Data security – Many customers are sceptical about their financial and important personal information being misused or taken advantage of. Data security is the most crucial point for any banking and financial sector. Customers need to feel safe sharing their finance and personal information with the bank. A healthy relationship between banks and customers is only created with a secure network and when a bank can guarantee security to the data of their customers.
Multifunctionality – Customers prefer banks that offer them options and solutions to any of their problems immediately. The banks need to keep pace with the latest developments of the market and technology and offer services across different channels simultaneously.
Design – Many traditional banking institutions often do not concentrate on their interfaces and fail to attract new clients. A customer today will prefer banks to have an exceptional UI along with easy to use website or mobile apps. Investing in improving digital channels attracts more customers.
Three ways Banks can conquer Customer Experience in Digital Banking
Banks hold enjoy strong customer relationships and trust since their establishment. Even with the services and products becoming available digitally, most of the customers trust their banks and banks that offer superior and personalised services. To further thrive in this digital era, banks need to harness the available advanced banking technology. This will allow the banks to match with the seamless and intuitive customer experiences offered by other big tech and their competitors.
To conquer customer experience in digital banking, banks need to focus on three key areas:
Transform the business models and mindset to a customer first approach – The customer first mindset requires banks and financial institutions to think about customer needs relentlessly and make things easy and accessible for the customers.
Leverage advanced banking technology – All banks require advanced digital banking solutions that help them manage their customers worldwide. Using technologies like application programming interfaces (APIs), cloud, and artificial intelligence allows banks to analyse and manage their vast amounts of data and large customer base.
Maintain and extend your trust advantage – Trust being the most important factor, offers a valuable advantage to build close and personal relationships with customers. Combing technology with customer experiences, banks can enhance customer experience and develop stronger trust with their clients.
Tips to Improve Digital Transformation
For banks to succeed in digital transformation and to avoid outdated assumptions while creating exceptional services that focus on their customers, banks should follow the following customer experience tips:
Serve more instead of selling
Make emotional connections with customers instead of overloading them with lots of information
Provide actionable solutions to customers instead of just focusing on features
Create an integrated flow for the customers instead of disintegrated experiences
Become disruptive instead of being protective
Ways to Improve Digital Customer Experience in Banking
The adoption of digital enablement technologies by banks that are able to function together smoothly is required to orchestrate a connected and enhance customer experience.
The following strategies are options for banks to achieve this state:
Proactive engagement for improved financial management – Financial institutions have various means and innovative methods to collect data, analyse and channel strategies to diversify the means of engaging customers and building better and stronger relationships in real time. By educating customers, notifying customers without delays, and conducting surveys help banks in conducting proactive customer engagement.
Offering live assistance – Mapping a consumer banking journey is an excellent way to gain a detailed understanding of the customer's experience. This can help banks discover common customer complaints, gain insights into improving the consumer journey, help in identifying the touchpoints customers have with the bank and understand their expectations better. This also helps in improving customer resolution time, reducing sale cycle and number of touchpoints for the customer.
Using chatbots as Financial Concierge – Artificial intelligence has played a significant role in technological development. Using AI chatbots is a common practice for customer interactions. This helps in providing faster and more accurate solutions to customers in real time and help in connecting with the right department and bank personnel without much response delay. The chatbots also provide customer information to the banks to help them identify the customer and the problem quicker and thus provide accurate solutions.
Prioritise a seamless omnichannel customer experience – Modern customers prefer to connect with the bank across various different channels according to their convenience. Banks need to provide the same time of services across all channels, both online and offline.
Understand the customer journey – Creating an unrivalled customer experience is an aspiration of all banks and this can be achieved by following the end to end customer journey. Customer needs, actions, barriers, and motivation can be considered at every stage of the customer journey and any shortcomings can be dealt with immediately without wasting time.
Make use of big data and analytics – Understanding customers is the foundation for sustainable competitive advantage in the digital banking and financial sector. With the help of analytics and data, banks can gain valuable insights to segment customers, evaluate opportunities, and predict models to strengthen engagements and increase the customer experience of digitalised banking services.
Using a personalised customer experience approach – Personalisation is imperative, and every customer demands it. These elements help banks to put customers first, leverage this customer data and deliver multi channel customer experience, thus improving the customer experience overall worldwide
Transparency, Security, Trust as customer experience tools – Forbes says that customers want to feel valued, appreciated, and confident, and customers who feel this, will advocate the brand. Using these tools builds deep trust and cultivates loyalty in customers who in turn recommend the bank or financial institution to others, thus providing more value to the banks.
Trends Reshaping Customer Experience in Banking for 2022
Enhancing Products & Services with Mobile App Data – In this age and time many mobile banking applications aren't so much as nice to have rather than on a need to have basis. Banks without this capability are at a severe disadvantage, as customers have come to expect convenient and easy to use a mobile app as a basic necessity. These apps and software enable the banks and financial institutions to analyse the data collected and the machine learning algorithms can help the banks to extract valuable information in return from this customer data, which can then be leveraged to develop new products, optimise the existing processes, better empower customers, and improve the overall customer experience.
The Branch of the Future – Customers do not prefer to visit the physical branches as frequently as they once did and pecks like complimentary coffee and free Wi-Fi aren't enough to draw modern customers to their physical branches. Physical branches see themselves competing with their own online platforms for customer attention. With the need to reimagine the physical branches to a branch of the future many banks are taking steps in modernising their physical branches to offer more technological services. For example, some branches display mobile, and tablets loaded with their banking apps on display, while some banks have capitalised on the value of one on one, face to face interactions with customers to help them utilise their money better and offer consultative services for the same.
Advising Services – As customers look for ways to grow their money in a safe and secure manner, usually find themselves in a whirlpool of information on the internet and random financial advice, which may or may not be practical for them or may be too broad to be of any real use. Banks can use this opportunity to improve their financial services and pair their customers with in-house financial advisors who can provide tailored advice as per their customers' needs. This will not only help build trust and better relationships between the banks and the customer but will also offer a competitive advantage. With the help of customer relationship management (CRM) technology, banks can collect and analyse data and build detailed customer profiles which in turn, the in-house advisors can use to gain overall knowledge of their customers thus being able to offer personalised services.
Artificial Intelligence – A customer these days would prefer to reduce human interaction and would prefer to have automated services. This is also apt with the situation where the customer is put on hold while calling the bank's customer service helpline to report an issue. With the volume of incoming calls steadily increasing and having a limited number of bank representatives on hand to field them, banks have to find innovative ways to tackle this situation without losing the trust of their customers. With the help of artificial intelligence, banks stand to save a substantial amount of resources and help customers more accurately while also improving customer experience in banking. Using artificial intelligence in an innovative manner, banks can also provide virtual assistants to provide money management tips and tricks to customers.
Automated Onboarding – For most banking customers, a quality customer experience hinges on their first impression with bank interaction. This first impression takes place during customer onboarding in the bank. Traditionally, a lot of paperwork and documents were required along with multiple visits to the banks. Digitalisation and making onboarding an electronic process has made it easier for customers as well as for banks. Customers can do it as per their convenience and from the comfort of their homes, whereas banks can use the automated process to compile the data with ease and accuracy, further enhancing the overall customer experience.
Support for Digitalization & Remote Service – In the last year alone, the importance and need for digital channels and remote services have been highlighted quite a bit. Making this transaction digital has been proven to be difficult for many banking customers, more specifically customers from older generations and customers who do not have access to digital platforms. In the coming years, banks need to double their efforts to smooth this transition for their customers. Providing additional support in terms of educating customers, to providing step by step tutorials and interactive videos would help increase customer knowledge and thus improve the overall customer experience. The more comfortable and confident a customer would feel while interacting on the digital platforms and remote services, the better their overall financial services customer experience will be.
"Humanizing" Digital – Even though artificial intelligence and digital platforms are leading banking customer experience; trust is always built on human interaction. To make this a comfortable union, a growing number of banks are offering a mix of artificial intelligence and live support for customer services, generating efficiency gains while still providing customers with the kind of personal touch they need. As technology advances, artificial intelligence and chatbots can be made more personal and be given personalities to have a more customised conversation with the customer and be able to leverage sentiments to detect emotions and respond appropriately.
Hyper-personalisation – Personalisation has been topping the customer experience list for years and the advancements made are tailored around that. The next frontier of personalisation is hyper-personalisation. When compared to standard personalisation that uses data analytics to deliver targeted marketing and sales messaging to different customer segments, hyper-personalisation is using a combination of predictive analytics like artificial intelligence and machine learning to monitor individual customers' real time usage data and provide services and suggestions accordingly. Armed with this technology, banks can queue more targeted and one on one marketing campaigns and offers.
Proactive Engagement – One of the best things about advanced analytics is that it provides financial institutions with a level of insight into their customers that once seemed impossible. Today, banks can monitor customers' financial health and proactively offer assistance with financial management or suggest opportunities to grow their wealth. Depending on customers' preferences, this service can be offered over digital platforms or in person. Watching out for their customers' interest to demonstrate the value added enhances the overall financial services customer experience.
Doing the Right Thing – The past two years have been challenging and has placed a significant financial strain on individuals as well as businesses. Banks can help their customers by being transparent about their process, data management and being honest about their policies and practices. Sustainability, honest and transparent business models go a long way in ensuring trust between a customer and the financial institution. Offering financial advising services to help their customers regain their footing shows concern and helps build a long term relationship between banks and their customers. Ultimately, doing the right thing by the customer is about demonstrating to customers that you intend to put their best interests first.
Tips for banks on Improving the Customer Experience
Assemble a dedicated customer experience team solely for that purpose
Establish strong feedback loops to gain valuable insight
Take an iterative aspect to optimization
Keep the customer at the centre of the business
Be honest and promise only what they can deliver
Enhance the mobility of products & services
Be a financial advisor throughout the customer's journey
Mirror customer experience of branch to internet banking
Leverage Artificial Intelligence (AI) to automate routine tasks to save time and optimise value
Popularity of Digital Banking in the UAE
The United Arab Emirates has always been keeping a steady pace with global developments, especially in the era of digitalisation of banking. From the year 1960, with the introduction of ATMs and later internet banking and mobile banking, banks and financial institutions in the UAE have always been in the now. Today, banks propose digital only solutions; and lately, non-bank entrants are also joining this digital banking fray.
The banks and financial institutions in the UAE began to realise the challenges and opportunities of the financial technology revolution that had begun sweeping across all the industries in the second half of the previous decade. This prompted a number of banks and financial institutions to launch digital banking initiatives. These initiatives ranged from separate digital only banking platforms to strengthening of existing mobile banking platforms, rationalising branch based services, and refocusing staff on value-added services rather than repetitive and less-profitable branch operations.
Top Digital Banks in the UAE
Currently, UAE is home to more than a dozen digital banks with the numbers expanding rapidly. From personal banking to banking optimised for businesses and youth, there are a number of options currently available in the UAE.
Emirates NBD LIV
Mashreq Neo
Yap
Abu Dhabi Islamic Bank (ADIB)
Dubai Islamic Bank (DIB)
First Abu Dhabi Bank (FAB)
Banks and Financial Institutions Driving Customer Engagement for Banking in the UAE
Here are some of the customer engagement strategies used by the big players in the UAE's banking and finance sector
RAKBANK
Is relentlessly focusing on user education reflections in the surge in adoption and usage
RAKBANK is one of the largest and most prominent banks in the UAE. They have prioritized user education in their strategy. The Bank is focused on informing and educating customers about contactless and digital wallet payments via various digital channels such as Apple Pay, Google Pay, Samsung Pay, Garmin Pay, Fitbit Pay, and SwatchPAY. RAKBANK communicated about the safety and convenience offered by the digital payment options to nudge a habit formation among customers.
Commercial Bank of Dubai
Is prioritising financial inclusion and is optimising customer onboarding process
The customer's shopping preferences are changing from physical stores to predominantly online channels, thus changing the mode of payment and banking in general. Digitization of services has accelerated in the last two years by the pandemic and thus resulted in a phenomenal uptick in digital adoption. Commercial Bank of Dubai has introduced end-to-end seamless onboarding, to make the process easier and faster for customers. Consumers can now open an account from the comfort of their homes in under two minutes and less than ten clicks using their Emirates ID.
Mashreq Bank:
Is unlocking meaningful engagement with customers by deep diving and extensively studying customer behaviour and personalization
Banks and fintech have had a tremendous opportunity to deepen their relationships with their customers in the last two years. These relationships need not be limited to transactions but can span multiple other use cases like school fee payment, food order, and other services the Bank can facilitate. Banks need to make the customer's life easy across all digital touchpoints and provide relevant and personalized experiences for various age groups and segments. Mashreq Bank analyses customer behaviour understands it and makes proactive decisions to personalize communication using AI-enabled optimization.
Banks by understanding the different areas of customer experiences can come up with an extensive customer engagement strategy to reduce the gaps between customers and the bank. The significance of the digital banking experience can be attributed to the various benefits offered like reduced operational costs, retaining customers, and the ability to stay ahead of competitors by using the latest technologies. The customer experience in the banking ecosphere holds massive untapped potential for growth, from meeting the day-to-day needs of consumers and focusing on preparing for disruptive future technologies.