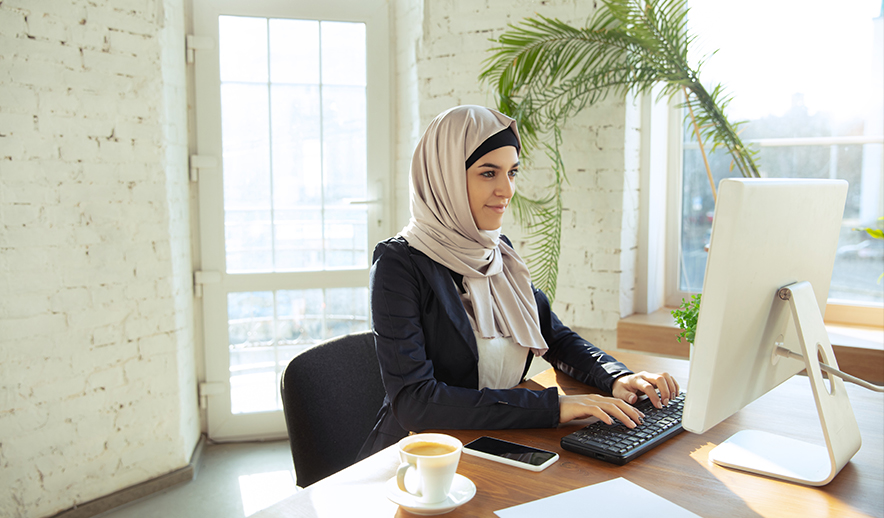 Digitization is defined as the conversion of data into a digital format with the implementation of technology. The world has become more and more digital in every. Banking is one of the first sectors to witness the impact of digitalization. Many transactions have been taken over by machine learning to not only have a more efficient transaction but also in detecting fraud and keeping banks and its customers data safe.
In the last two decades, the advancement in technology and the era of smartphones have unleashed new forms of banking solutions on mobile apps. The stiff competition from other financial technology providers made it imperative for traditional banks to quickly adapt to the changing times and transform digitally.
Thanks to the era of digital banking, many customers haven't set foot inside a bank branch. During the turbulent time of the pandemic, digitalization has opened many new doors for both the banking sector as well as the customers. Customers are able to access everyday banking functions via a mobile app or over the internet on their personal computers and mobile phones. Many businesses went cashless during the pandemic as well, thus encouraging more cashless transactions at a wide swath of stores from grocery shops to high-end brands.
What is digital banking?
In simple terms, digital banking refers to banking services carried out through an online digital platform without involving any paperwork. This includes combining online banking services and mobile banking services under one umbrella.
Online Banking:
Online banking is having access to all bank features and services via the bank's website from your computer. You can log into your account to view your balance and make payments like rent or electricity bills. You can also access additional banking features such as applying for credit cards or loans at many banks via your online banking portal. With online banking, you do not need to physically go to the bank and can access many of your financial services on your personal computer from the comfort of your home.
Mobile banking:
Mobile banking is using the mobile banking app of your bank on your mobile device and having access to the features and services on your mobile device such as a smartphone or a tablet. The apps are proprietarily issued by your bank, and you can log into your account on your online banking portal. Mobile banking was designed for people on the go who would like to have access to their banking services even when they do not have access to a computer. Banking apps have features such as mobile check deposits, bill payments, and fund transfers and convenient features like peer-to-peer payments. Banks also use mobile apps to send notification alerts such as deposit received or low balance or fraud detection.
Online banking and mobile banking together create the digital banking umbrella, giving customers access to banking services wherever they may be. Or in some cases wherever the customers are graced with a secure and strong Wi-Fi signal.
Who offers Digital Banking?
Digital Banking in the UAE is different from the traditional form of banking. Digital banking as implied can be availed online without having to physically visit the bank, however, digital banking offers even more features and services online. Services like opening an online account, deposits, fund transfers, online payments, tackling insurances, paying loans and much more services are offered without the necessity to visit the bank in person.
Digital banking in the UAE is offered through two primary sources:
Brick-and -Mortar banks
Digital online only banks
Customers may choose a mode of banking that caters to their needs best.
The difference between Digital Banking and Online Banking
Even though they sound similar, online banking and digital banking are not the same. Both of them are forms of banking as online banking falls under the category of digital banking. Online banking is defined a bit more narrowly than digital banking.
With online banking, a customer can avail of some of the banking services like bill payments, fund transfers, access to account statements and account summary online on the bank portal accessed by a computer or on the mobile app of the bank without having to visit the bank. For services like opening a bank account or applying for banking services, the customer would have to visit their bank branch.
In digital banking, the customer does not need to visit the bank for any services, including opening a new account and applying for bank services. Customers can also avail of other services like making payments, transferring funds, and several other services. The customer can avail of these banking services from anywhere and at any time using the bank website or the bank mobile app. The process of banking is completely automated and paperless.
Digital Product Services
With access to a stable internet connection and an internet enabled smart device, digital banking has a lot to offer:
Obtain bank statements:
View and download your bank statements for any specific period
Transfer of funds:
UAEFTS hosted by central bank provides Real Time Gross Settlements RTGS, , the need to issue cheques and DDs have been eradicated
Mobile banking:
Mobile banking is digital banking through an application optimized for smartphones and tablets.
Cash withdrawals:
ATMs facilitate cash withdrawals at any point in time.
Bill payments:
The auto-debit feature for bill payment lets a user setup monthly debit in favour of regular utility payment
Finance:
Invest, open fixed deposit accounts and raise loans through digital banking. Link your De-mat account to provide a seamless flow of funds to invest promptly.
Manage cheques:
Intervene in the cheque clearing process using digital banking to stop the cheque if the need arises
Monitor transaction records:
Receive alerts and notifications to the linked mobile number or email address. The notification arrives as soon as the transaction is executed. Digital banking also lets you monitor account balances or outstanding at the click of a button.
Types of digital banks
The following are some of the main types of digital banks:
Neobank
They are digital banks operating online without any physical presence and provide remote access to their services via a mobile app. Many do not hold a bank license and partner with an existing bank for bank licensed operations.
Challenger bank
Refers to a recently launched bank that challenges the traditional banking institutions. Being more user friendly and cost effective, challenger banks focus on the audience segments that are underserved by the big financial institutions.
New bank
They are fully licensed neobanks that provide a full range of banking services and the only difference from brick and mortar banks is the mode of operation, which is completely online.
Nonbank
They are non banking institutions that provide financial services like streamlined loans or mortgages but they do not simultaneously accept deposits or offer checking and savings accounts.
Advantages of Digital banking
With the number of services provided and the client as well as bank convenience factor taken into consideration, many advantages are offered to both the banks as well as the clients.
Some of these advantages are:
Increased customers
Enhanced efficiency
User friendly experience
Data driven decisions
Cost efficiency
Improved usability
Greater personalization
Client and bank convenience
Anytime anywhere availability of access
Automatic payment features
Services to remote areas
Reducing the risk of counterfeit currency
Strengthens privacy
Time saving
Digital banking tips
Even though digital banking is safe and secure, it is always advisable to remain cautious with one's private information
Do not write down your login details with credentials and password anywhere
Do not share your credentials with anyone including banking officials
Do not tell your banking card pin to anyone
If your card is lost, report it on the bank website and immediately block it
Call your bank and ask for clarification if you have any doubts about payment or pin requests received.
Digital transformation in the banking sector of the UAE
With the advancement seen in technology, innovation, and futuristic outlook, UAE is at the forefront of the digitalization of the banking industry. The digitalisation of the banking sector, in general, can be traced back to the 1960s when ATMs and payment cards were introduced to the people. With the popularity of the internet in 1980, banks began offering internet-based services to their customers to make transactions quicker and easier.
Keeping pace with global developments in the digitalisation of banking, the banks in UAE are quickly adapting to digital only solutions and joining the digital banking fray. The banks in UAE realised the opportunity and challenges in the financial technology revolution and began changing to fit the need and demands of the market. In the second half of the previous decade, a number of banks launched digital banking initiatives. These initiatives include a separate digital only banking platform, strengthening the existing mobile banking platforms, refocusing services on digital platforms as compared to services in branches and catering to customers' lifestyles and the younger generation.
The top leading banks in the UAE such as Emirates NBD, Mashreq, and Commercial Bank of Dubai were the first to commit large resources to the digital transformation of the banking system in the UAE. Emirates NBD's Liv., Mashreq's Neo and CBD's CBD.Now are all digital banking propositions focused on branchless delivery of banking services to their customers through mobile banking technology.
Top Digital Banks in the UAE
The UAE has always kept pace with the global trends in financial technologies. Currently, UAE is home to a number of digital banks and the number keeps increasing. From personal banking to banking optimised for businesses and youth there are a number of options available in the UAE.
Launched in 2017 by Emirates NBD, the bank is geared toward the youth in the UAE. After digitally enrolling with Liv, customers can do banking via Liv's Apple or Android app.
Due to the popularity of Liv, Emirates NBD launched another digital banking platform in 2019 called the E20 to cater for digital business banking.
Launched in 2017 by Mashreq Bank, Neo offers a wide range of services via a mobile banking app to suit modern banking needs. Named as Middle East's best mobile banking app in 2020 by World Finance, you can also invest in gold, forex, and stocks from the same digital app.
Yap is the digital banking app of RakBank that is completely paperless. With the latest security and technological features, YAP users can bank safely from anywhere. You can also track your financial decisions along with the YAP app's financial analytic tools.
Created by Abu Dhabi Islamic Bank (ADIB), SmartBanking offers its users many benefits. Get your card delivered to your doorstep and have access to savings account across the Middle East and free ATM withdrawals at ADIB ATMs across the UAE.
Created by the Abu Dhabi Islamic Bank (ADIB), Amwali is a digital only bank created to cater to the UAE's youth. Children can learn financial management lessons on the app and track their savings and spending from the money sent by their parents. The advance parental control abilities allow parents to track the child's account and set limits for them.
Digital banking services have seen a rapid surge in customer acceptance across the UAE. The younger generation was quicker to accept digital platforms and digital servicing, while the older generation was cautious at first, although now are fast adapting to the gaining digital banking traction.