Expo 2020 Dubai is all about opportunities and positivity. Find out why we say this!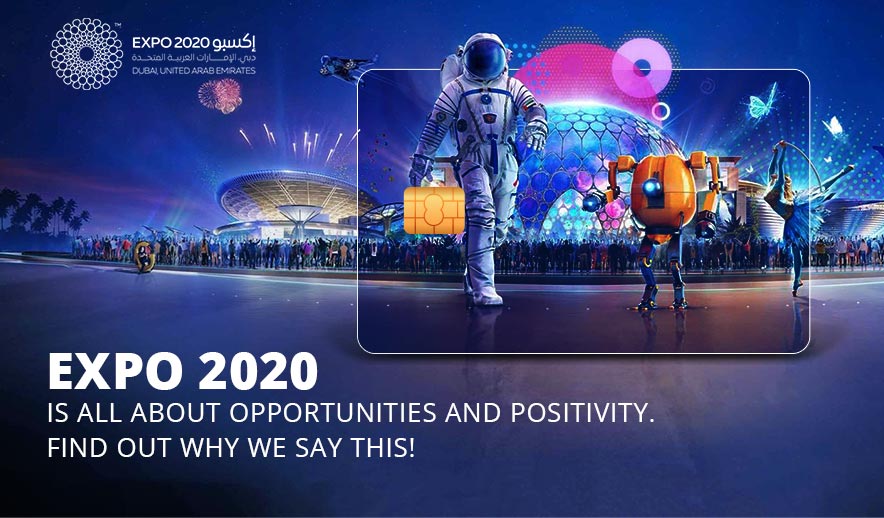 Celebrating human brilliance and accomplishments across various platforms, Expo 2020 Dubai is the largest event taking place in the UAE. Scheduled between 1st October 2021 to 31st March 2022, Expo 2020 Dubai is bringing in exciting new opportunities, innovation, technology, knowledge, and ideas unlocking the potential to shape the future. With 60+ daily shows, 200+ restaurants, and 200+ pavilions, Expo 2020 Dubai is a chance for people from all over the world to connect and experience an immersive cultural experience. Explore each of the 191 participating countries and meet people who are making our world brighter and setting a global stage for business worldwide to thrive together. Addressing global challenges, the subtheme of Opportunity, Mobility, and Sustainability open doors to help preserve the planet and create a better world. Expo 2020 is a chance for people from all over the world to connect and experience the best of science, inventions, art, and culture and to set into motion concepts and ideas to make a permanent impression on the world.
For the duration of the Expo, Dubai as the host of Expo 2020 will be a must-visit family destination, with thousands of events and amazing exploratory experiences happening. Get your tickets online and choose either from Season Pass, Multi-Day Pass, or 1-Day Ticket that adults ages 18 to 59 can purchase at the official site of Dubai Expo 2020 or from one of their authorised ticket resellers. Kids and youth under 18, tertiary and higher education students, seniors 60 years and above, and people of determination can get free tickets for the entire duration of Expo 2020 Dubai. Be a part the greatest global gathering and explore Dubai as you visit the World Expo 2020 to find excitement and adventures in this modern-day Oasis.
To get the best experience of Expo 2020 Dubai Emirates NBD introduces Expo 2020 Dubai account
As the Official Premier Partner of Expo 2020 Dubai, Emirates NBD is offering a special, tailor-made banking package for SMEs registered on the Expo 2020 Dubai Online Marketplace. The package will help meet the needs of these small and medium-sized enterprises (SMEs) that would like to participate in the next World Expo and give them the boost they need to accelerate towards a brighter future.
Features and Benefits of Emirates NBD's Expo 2020 Dubai account:
For the first 12 months, no minimum average monthly fees
After the first 12 months, one of the lowest minimum average balance requirements in UAE (AED 10,000)
Unlimited free cheque books
Preferential pricing for your banking transaction, foreign exchange, and telegraphic transfer (TT)
To cover all your banking needs, a dedicated team of Relationship Managers at your service
A team of experienced Trade Specialists and Wealth Advisors to cater to your trade and insurance-related banking requirements
Trade Finance support for short term financing requirements
Working capital support and commercial loans at attractive terms
The world's biggest cultural gathering the Expo 2020 Dubai, calls for world-class payment solutions for their guests and enthusiasts. As a premier partner and the official banking partner of Expo 2020 Dubai, Emirates NBD Group has joined with Mastercard, which is the official payment technology partner of Expo 2020 Dubai and created two exclusive new card programmes. These limited-edition cards are designed to enhance the Expo 2020 Dubai experience for both the residents of UAE and the visitors that come to enjoy Expo 2020 Dubai from across the globe. Emirates presents Emirates Islamic Expo Mastercard Credit Card and the Emirates NBD Expo Mastercard Prepaid Card.
Emirates Islamic introduces Exclusive Expo Credit Card Limited edition.
As the Official Islamic Banking Partner of Expo 2020 Dubai, Emirates Islamic, part of the Emirates NBD Group, along with Mastercard and Expo 2020 Dubai have created an exclusive, limited edition, co-branded credit card that offers a wide range of specially designed benefits and privileges catering to the lifestyle and travel needs in the UAE for this iconic event.
Features and Benefits of Exclusive Expo Credit Card Limited edition:
No annual fee
50% cashback on first Expo 2020 Dubai ticket
10% cashback on fuel spends
Complimentary valet parking service at the Expo 2020 Dubai site
Complimentary golf sessions, exclusive dining offers, and access to more than 1,000 airport lounges worldwide
Access to exclusive travel, hotels and lifestyle privileges offered by Mastercard
Up to 5,500 bonus Upoints by Emaar
EI SmartMiles on all spends with multiple redemption options
Accelerated EI SmartMiles on Expo 2020 Dubai & Emaar Spends
Gain U By Emaar Gold Tier Status
Emirates NBD Expo Mastercard Prepaid Card
The Emirates NBD Expo Mastercard Prepaid Card is a digital-first offering that is issued via a dedicated mobile App called Joyn which is officially from Emirates NBD. This card is available to both UAE residents and international visitors for use while in the UAE. The card provides a hassle-free and fully digital payments experience.
Features and Benefits of Emirates NBD Expo Mastercard Prepaid Card:
Offers from Emirates NBD's Bon Appétit, LiveWell and Good Times programmes
Offers from Mastercard's Priceless Platform
Access to privileges, deals and discounts of up to 50% at more than 2,000 shopping, dining, wellness, and entertainment touchpoints.
Access to exclusive and personalised Expo-related offers.
Make online purchases as well as contactless in-store payments by adding their card to their preferred digital wallet (Apple Pay, Google Pay and Samsung Pay).
Customers can also receive a linked physical card if needed.
SoulWallet helps you compare and find the best credit card suited for your needs to have an easy and hassle-free experience. SoulWallet grants their users services that would help them make the most of a wide range of personal finance solutions, from credit card reward cards in the UAE, to personal loans, to Islamic credit cards, to air miles credit card application and a lot more.
The well-researched, solidly structured, unbiased content along with unique tools at SoulWallet help you make well informed personal finance decisions. In the process, SoulWallet helps you identify the options that will let you save money and enjoy the best perks.
At Expo 2020 be a part of the action. Whether you are looking for business opportunities, unleashing your inner techie, channelling your creativity, diving into a world of flavours, or splurging to your hearts content.