See it, like it, want it? – "Buy Now, Pay Later" here to stay.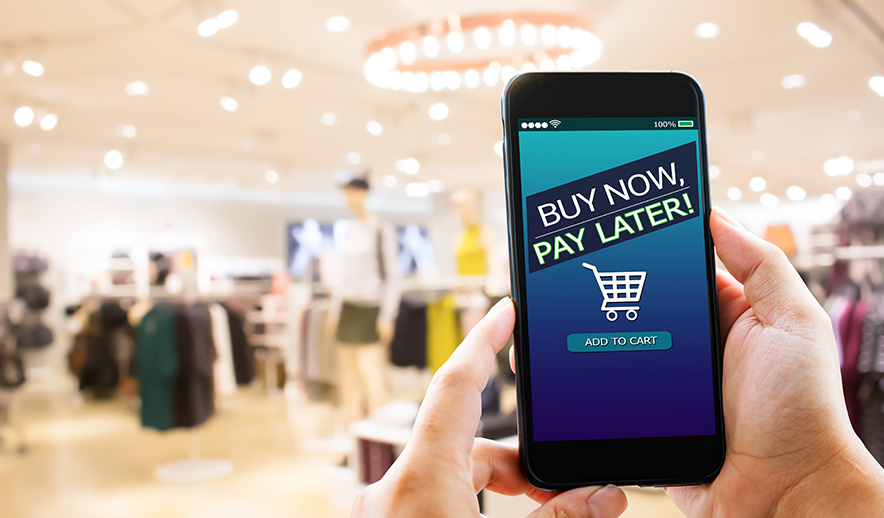 What is "Buy now, pay later"?
If you have been hearing the term "BNPL" quite often in the recent days and have been wondering what it is it all about, this article is for you.
Why pay upfront when you have an option to spread the purchase over a few instalments, and without interest? Sounds like an absolute no-brainer, isn't it?
"Buy Now and Pay Later" is a type of "Point-of-Sale" financing, which is growing in popularity exponentially, especially among millennials. BNPL is a form of unsecured lending in small ticket sizes that allows consumers to make purchases and pay for them later through a few interest-free instalments. Borrowers can utilize these short-term credit schemes on purchases both online and offline even without any credit checks. A first-time buyer will have to complete KYC formalities on the provider's platform. BNPL providers use analytics to get insights on buyers' purchase behaviour and determine their credit worthiness. Typically, this option targets millennials offering them easy access to credit for small-ticket purchases.
Why is there so much of buzz around BPNL in recent times?
BNPL has been consistently gaining traction and is radically changing payment behaviour in e-commerce sales over the last few years globally. Consumers are quite excited with this service which is evident from its rapid adoption. They clearly envisage BNPL as a convenient and easy solution. It is no wonder that we hear investments and acquisitions happening in this space every day. Below are a few BNPL investments which made news recently.
India based "Simpl" raises $40 million
Switzerland based "ZoodPay" raises #38 million in their latest round
Australia's "Openpay" raises $271.4 million
Mexico based "Alpazo" raises $27 million
UAE based Taby raises $50 million in its series B round
While BNPL companies are surging on with valuations even higher than 50+ revenue multiples, many are yet to be profitable in global markets. This once again drives the point that BNPL companies are after customer acquisition, simple as that!
Interestingly, there are global payment solution providers such as PayPal and Square who have integrated this offering as part of their existing solutions. Stand-alone BNPL players will require to up their game in wooing customers with rewards and freebees in the future…just like traditional credit cards.
While there are several views around the pros and cons of BNPL, one thing we are sure of is that these fintech solutions are certainly going to eat into the spend and revenues of traditional banks credit products. Point of Sale financing is growing at a much faster rate than any other unsecured lending products (source Federal Reserve, TransUnion, Mckinsey Finance consumer pools).
How do BNPL services make money?
BNPL companies incur costs in the form of interchange, network fees, issuer processing fees and credit losses. These elements squeeze their margins constantly. It is pivotal for these organizations to explore revenue opportunities in the form of affiliate marketing etc.,
BNPL services make money from both retailers and consumers. Retailers pay BPNL a percentage of 2 to 8% of the purchasing amount if the customer uses the BNPL facility. While the retailers can realize a 20 to 30% increase in conversions and average ticket size.
Consumers pay BNPL through late fees which range from AED 10 and are capped around 25% of the purchase order on the higher side in most cases.
How does "Buy now, pay later" work?
Buy now, pay later arrangements are point-of-sale instalment loans that allow consumers to make purchases and pay for them at a future date. One needs to sign up with a BNPL facility provider who will make the payment to the merchant while the purchase is being made.
Make a purchase at a participating retailer store (online or offline) and choose "Buy Now Pay Later" at checkout.
The store seeks approval from the BNBP provider within seconds
Consumers typically make an upfront payment toward the purchase, then pay the remainder off in a predetermined number of instalments.
Remaining amounts are paid off in interest- free instalments
Payments can be made via bank transfers, credit cards, debit cards or checks automatically.
Does BNPL affect your credit score?
Most of the BNPL solutions approve a transaction based on a "soft" check or a bureau score-based check. This may not impact your credit score.
What are the eligibility criteria for BNPL schemes in the UAE?
UAE resident with a valid Emirates ID
At least 18 years of age
Hold a valid UAE mobile number and email id
Must have a payment option either a debit or a credit card
BNPL players in the UAE
Name
Taby
Spotti
Postpay
Tamara
Solution
BNPL partnered with Telr payment gateway as well
BNPL
BNPL
BNPL
Eligibility
UAE Resident
18 years and above
Valid Emirates ID
Valid Phone number
Valid Credit or Debit Card
UAE Resident
18 years and above
Valid Emirates ID
Valid Phone number
Valid Credit or Debit Card
UAE Resident
18 years and above
Valid Emirates ID
Valid Phone number
Valid Credit or Debit Card
UAE Resident
18 years and above
Valid Emirates ID
Valid Phone number
Valid Credit or Debit Card
Instalments
4
4
3
3
Upfront
25% of none if payment in 14 days
25%
25%
1/3rd of purchase value
Late fees
AED 15 on day one after payment due date and AED 30 after 2 weeks of payment due date
AED 20 with a maximum of two late fees per order.
AED25 the first time AED30 if not settled within 10 days after the Due Date.
25 AED on the first day of delay, then it will increase every 15 days by the same amount.
Late Fees Cap
AED 105
25% of total order or AED 40 whichever is lower
25% of total order
AED 150 or 25% of order value or whichever is lower
Payments
Visa or Master
All major debit and credit cards.
Mastercard and Visa debit and credit cards.
Visa, Mastercard, or even ApplePay and Amex
Reward
Shoppers create an account on tabby's website or app to earn up to 20% cashback, after making purchases at tabby's partner retailers. Shoppers may then choose to withdraw the cash they have earned or settle upcoming payments on tabby
NA
NA
NA
Conclusion:
BNPL has disrupted the payments industry and has created an impact on credit card companies. Retailers cannot shy away from this new reality and if they do, they will be missing the opportunity BNPL brings in. Retailers must also be aware that customers who are accustomed to BNPL services will look out for retailers with similar service offerings.
While credit cards do carry a much stronger value proposition in the form of loyalty rewards, product features and global acceptance, BNPL services will evolve in the future with such functionalities and create better stickiness with customers.
In conclusion, BNPL is certainly an appealing proposition for consumers. However, one must exercise caution and must not go overboard.
—
The editorial team at Soulwallet is committed to accurate and relevant content intended to assist our readers while making personal finance decisions. We are glad to get feedback on the article and make necessary corrections if required. You can email the editorial team at support@soulwallet.com.  Our editorial advice, recommendations and product assessments are not influenced by business partners.