1 Simple Way to Relax in Luxury and Style Before You Board Your Next Flight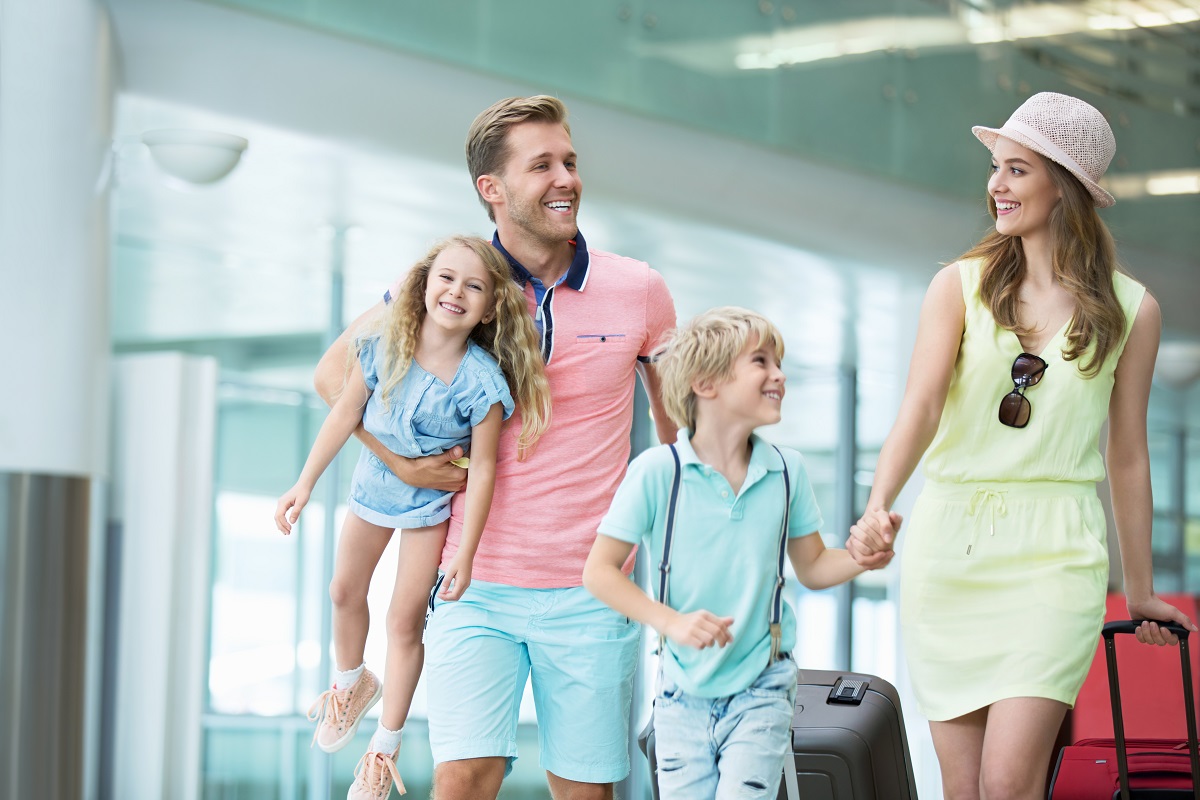 UAE airports are always buzzing with traffic. The very make of the country's population mix drives travel and in many cases frequent travel. So, let it be travel to home country, leisure tours or even business travel, there is a significant amount of travel residents undertake.
Gone are the days where one must wait near the crowded gates with limited access to essentials such as internet access or even a seat. Lounges are a boon to travelers, a place where they can relax with their families and have a nice meal or even work without any hassles.
Access to most of these lounges is free through business class tickets or memberships. Having said that there are options available for folks who travel in lesser space as well. After spending hours on saving money on the best possible rates for your flights and bookings, it does not really make sense to spend the saves on lounge. But wait! What if it is free? All the luxury and bliss at no cost.
Most of us carry credit cards and these cards in UAE offer airport lounge access free of cost. This is seen as a favourite and useful feature which gives absolute value to customers. It does not matter which airline one flies or even which class, the free lounge access feature is available on most of the credit cards.
This article elaborates on the Airport lounge feature and the different bands and respective benefits UAE credit cards offer.
What exactly do I get free with my credit card when it comes to Airport lounge access?
Free Access to Airport Lounge
Depending on the specific credit type that one may have, free access can be availed at Airport lounges. Airport lounge offers complimentary snacks, drinks, wi-fi and glossy magazines along with a peaceful place to relax before you board.
 Supplementary Card holders
If your family has supplementary cards, they can also avail the facility free of cost. It is important to note that not all card types allow supplementary cards holders. Do refer to the table below to identify which card allows supplementary card holders
 Guests
In addition to supplementary card holders, some of the credit cards allow guests accompanying primary card holders as well.
Number of visits
Some of these card types have a limitation on number of visits in a calendar year, post which the bank will apply a charge in case of any usage.
It is always wise to find out which airport lounge allows free access to the credit card you hold prior to your trip. This can save a lot of unnecessary walking within the terminals and most importantly disappointment at the lounge check in counters which sometimes can have a lengthy wait line.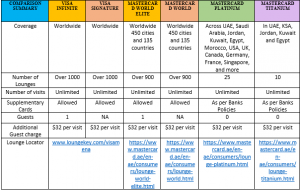 Note: While the above is a standard offering from the associations (Visa and Mastercard), some banks might have customized the lounge offer on their respective cards. Hence it is advisable to refer to their product features section for more details click here.
Takeaway
Travel can be more enjoyable if planned well. While complimentary Airport lounge access offered by a credit card is a no-brainer one must be aware of all the other travel related benefits credit card offers. After all, why would one say no to a free feature which could be worth thousands of dirhams otherwise.
As a personal finance aggregator Soulwallet has analysed various credit card features and rated them based on an apple to apple comparison. Let it be Golf, Airport Transfers, Valet or even Cinema offers, one can easily refer to the ratings. For more details visit us on www.soulwallet.com.
Leave your worry behind and enjoy every bit of your travel. Bon voyage!